How do I return visitors who have left my website? This question was asked by the eCommerce team of the META region of Kaspersky Lab.
Before push notifications were introduced, the company used email campaigns to return cart abandoners, but the return to user conversions was very low. Also, many site visitors left before downloading the trial version or buying, without leaving their email. The eCommerce META team began looking for new ways to work with these customers.
In January 2018, the company decided to test push notifications using the Push4site service. To work with an abandoned cart, Push4site has made integration with the eCommerce provider 2Checkout.
By December 2019, push notifications were already used on 4 local sites of the company. The platform now covers more than 40 countries in the Middle East and Africa, as well as Turkey. The base of active subscribers consists of more than 300 thousand people. Notifications are sent in 3 languages: Arabic, Turkish and English.
Approach and Results
Business scenarios for interaction with push notifications cover the main sales strategies:
Working with new site visitors
Interacting with site visitors who are not ready to buy immediately
Communication with users outside the site, without email and other contacts
Receiving customer information-country, city, browser, OS, subscription date, traffic source
17-22% of new site visitors subscribe to push notifications. At first, the conversion was about 5%, and bonuses, discounts or gifts for the subscription did not affect its growth in any way. But when the offer to subscribe became native-the design and text were made less intrusive-the conversion immediately increased to 13%.
Temporary trigger notifications
The user receives a trigger notification if he takes a specific action or chain of actions on the site. For example, when a visitor was interested in a trial version of the antivirus, but did not download anything.
13% of trigger notification recipients complete an action on the website.
Trigger notifications for working with an abandoned cart
Automated trigger notifications are also used to handle an abandoned cart. Integration of push notifications with 2Checkout helps to return customers directly to the cart while keeping the selected product. The first reminder of an unfinished purchase is sent after 3 minutes, the second-after 90 minutes. Users who returned to their cart receive a 15% discount.
21% of customers who abandoned their cart return to the site. 23% of them complete a purchase-that's 4x more conversion from emails.
Messages about promotions and discounts on the site
Kaspersky tells customers about promotions like Black Friday, announces updates or new product launches, and congratulates them on local holidays.
The company noticed that conversion is influenced by:
Timing of sending notifications: best results are achieved before or after business day
Creatives: Questions perform worse than assertions.
The eCommerce META team has tweaked segments and tags to make the offer more relevant to specific users.
7% of recipients of promotional push notifications go to a website or landing page.
Maintaining contact and developing loyalty
For its blog, Kaspersky Lab makes content about cyberspace security and provides users with useful tips. With the help of notifications, subscribers are informed about the release of a new article or sent out recommendations for protection against viruses, hackers, spyware attacks. This helps to maintain contact with users, develop brand loyalty and at the same time raise their level of education in the field of cyber threats.
9% of recipients of informational push notifications follow the link to the Kaspersky Lab blog.
Creative Examples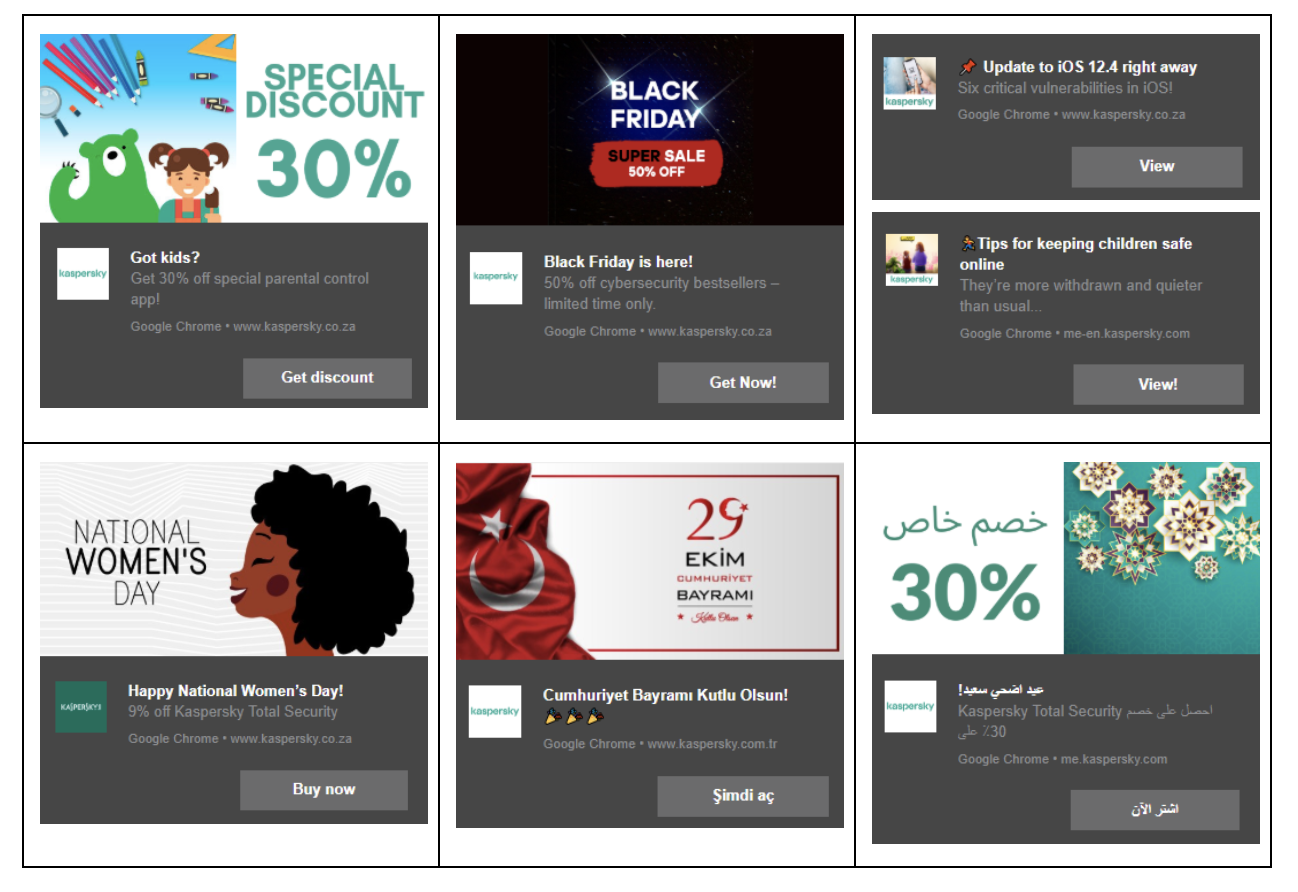 Recommendations for using push notifications:
Fewer steps. Not choosing topics directly for email will increase conversion rates in subscriptions (you can rely on product tags to target subscribers).
Optimize conversions. Constantly work with creatives and texts, test the best submission times for your customers.
Constant communication builds trust. Prepare a consistent content plan and communicate with users at least once a week.
Bright recognizable style. It is important to stand out among other mailings-attract attention with a bright visual style.